Press Releases
05/07/2021 - EU-funded Baladiyati receives additional 26.2 million to strengthen cooperation in Libya' South. [EN; AR]
10/06/2021 - Libyan municipalities to step up information services for the communities [EN; AR]
24/02/2020 - European Union partnership with AICS, UNDP and UNICEF: for better access to services in Libya [EN; AR]
01/10/2019 - Communications to develop capacities of authorities and improve access to basic services [EN;AR]
Partners
Video: Strategic Communications Workshop
The programme Recovery, Stability and Socio-economic Development in Libya (RSSD – Libya) has been jointly formulated by the European Commission and Italy within the framework of the EU Emergency Trust Fund for Africa, North of Africa Window. With a total budget of 50 million euros, the three-year Action aims at fostering inclusive social and economic environment and stability in the region, enhancing the provision of basic services at local level and increasing access for most vulnerable groups. Implementing partners are AICS (22 million euros), UNDP (18 million euros) and UNICEF (10 million euros).
Libya is a mostly desert and oilrich country of about 6.4 million people. Since the 2011 uprising, political instability  coupled with floundering economy and increasing violence. With the conflict spreading and intensifying, municipal administrations, with weak technical capacities and limited budget, struggle to respond adequately to the population's primary needs, with dramatic impact on health, education, water supply, sanitation and electricity.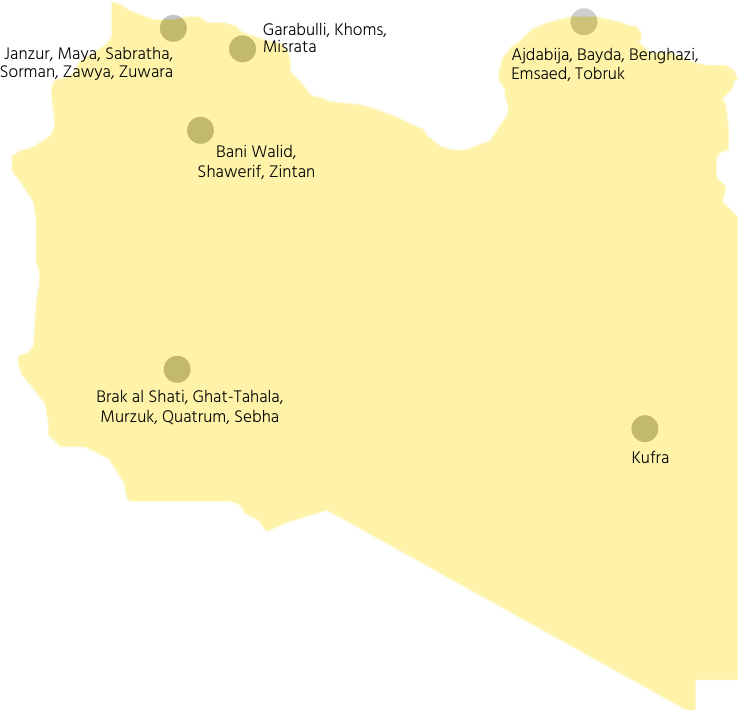 Accordingly, the programme aims at strengthening the capacities of local public authorities and administrations in providing basic and social services, and improving access to quality basic and social services, in particular to the most vulnerable population living in the selected locations, including migrants, refugees, IDPs, returnees and host communities.
Kew sectors of work are: health, education, water & sanitation and electricity. Specific interventions in the 24 municipalities were technically assessed and prioritised through bilateral and multilateral consultations with Libyan central and local authorities as fundamental actors in the process of pacification and stabilization of the country.
In this framwork, AICS works with selected INGOs to implement the rehabilitation of basic service facilities, mostly in the health sector, through the provision of equipment and light works. AICS is also responsible for providing technical assistance and capacity building to the Libyan municipal authorities on inclusive service provision, and specific training courses for technicians from each targeted facility, including hospital, clinic, school.